Linzer Torte
Enjoy a sumptuous layer of nutty, crumbly, rich pastry filled with our naturally sweet mixed fruit jam. This Austrian pastry is perfect for any holiday! Exquisitely delicious to the last bite!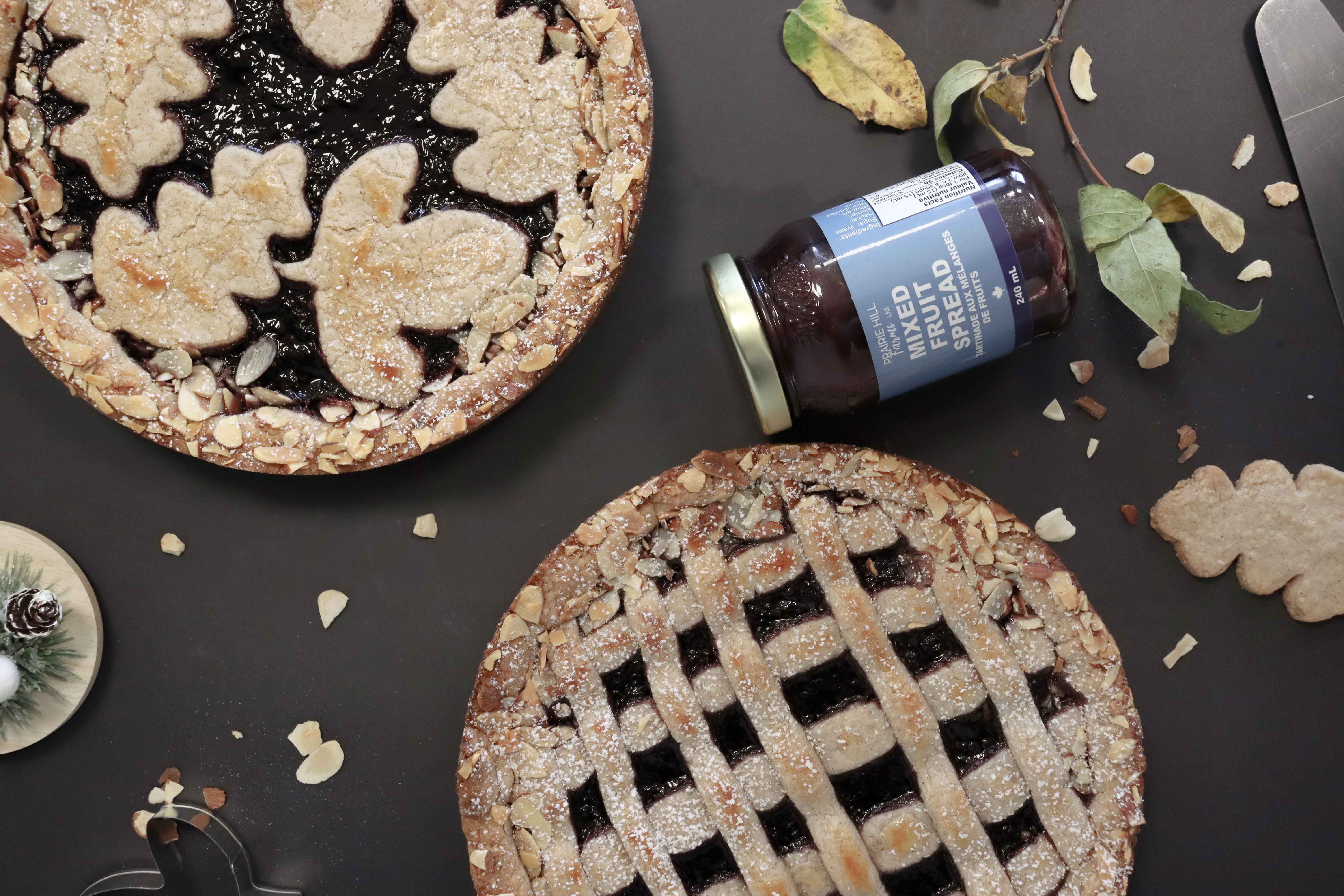 Ingredients:
240 mL Prairie Hill Farms Mixed Fruit Spread
1 cup + 2 tbsp. Butter
1 ¼ cup Sugar
2 Egg Whites
2 Egg Yolks
1 tsp Vanilla Extract
2 tsp Ground Cinnamon
¼ tsp Cloves
¼ tsp Salt
2 tsp Baking Powder
2 cups Almonds, blanched, finely ground
3 cups All Purpose Flour
Almond slices, optional
Directions:
Linzer Torte Dough
Cream butter and sugar together.
Add the two egg whites and one egg yolk and continue to beat until fluffy. Add vanilla, cinnamon, ground cloves, salt and baking powder and mix together.
Add the ground almonds and mix together.
Gradually add in the flour and mix until smooth.
Divide the dough in half.
The tortes can be made using the classic lattice topping or decorated with cookie cut outs.


Classic Lattice Pattern:
Take one half portion of the dough. Divide into two with one portion about 40% and the second portion about 60%. Take the smaller portion and roll out into a long oval (you want to be able to cut several strips that will be long enough to span the full width of the torte). Cut into narrow strips using a pizza cutter or sharp knife. Refrigerate the strips to firm up and make them a little easier to work with.
Take the 60% portion and roll out slightly larger than the bottom of your springform pan. Line pan with parchment paper and place dough circle on the bottom. Use fingers to form a one inch lip around the edges.
Spread half of the jam over the dough circle.
Lay several of the strips over the jam, parallel and evenly spaced.
Repeat with the remaining strips, laying them across in the opposite direction.
Whisk the remaining egg yolk (add a little milk to thin out) and brush over the pastry strips and edge. Decorate the edge with sliced almonds.
Cookie Cut Out Pattern:
Follow the above steps for rolling out the dough but use cookie cutters instead of cutting strips. Use cookie cutters of your choice such as a leaf or star design.
Bake at 375°F for about 25-35 minutes until golden brown. Let cool somewhat before releasing from the pan. Dust with powdered sugar and let cool completely. It is best to slice and enjoy the next day.