Baked Brie With Bacon Balsamic Haskap Berries
This baked brie is quick and the easiest to prepare. Plus, the combo of haskap berries, bacon and balsamic vinegar as topping takes your pre-dinner snacking to the next level.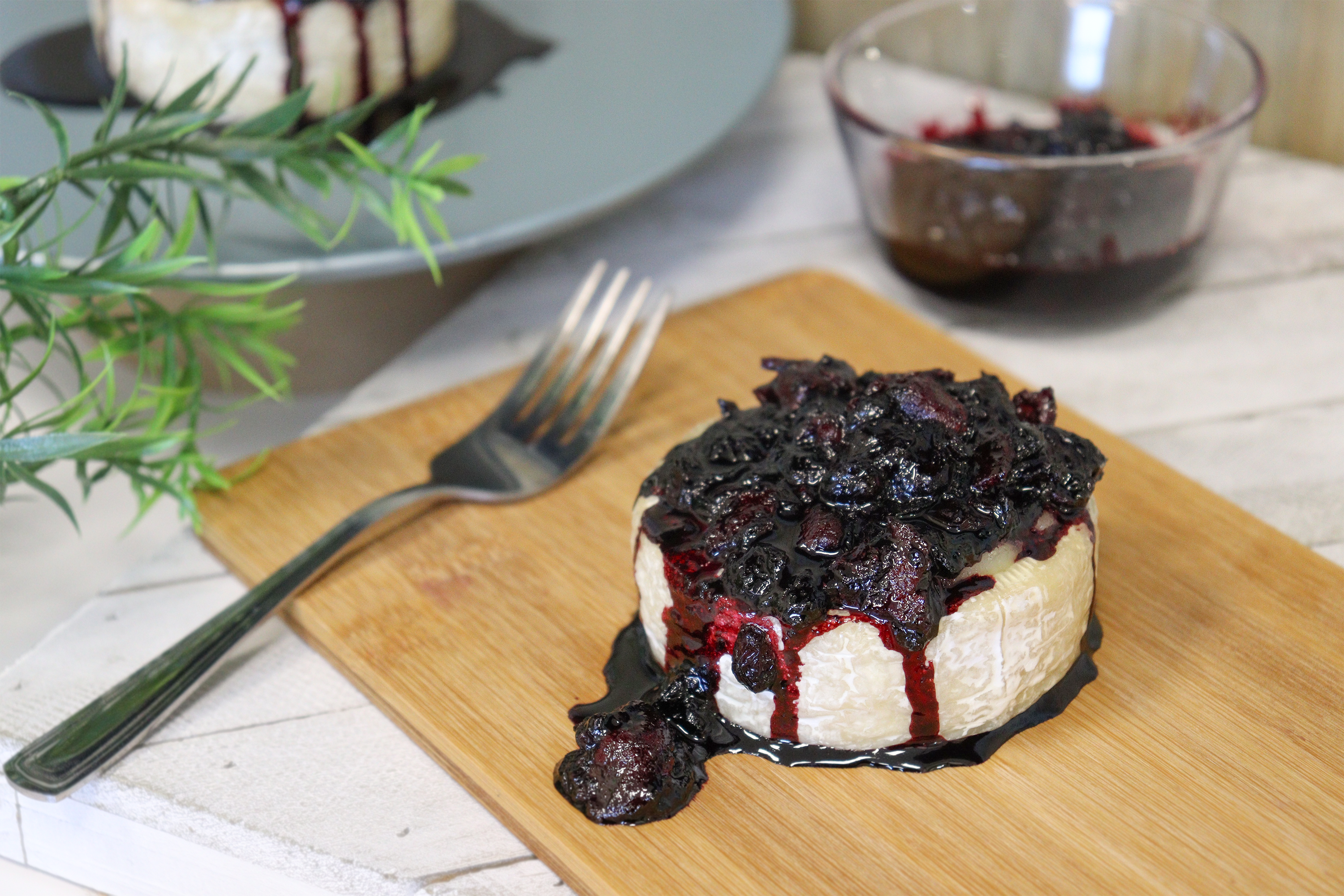 Ingredients:
500 g Brie Cheese or 2 smaller wheels
4 slices Bacon (see note)
2 tbsp Minced Red onion or sweet onion
1 cup Frozen Haskap Berries 
3 tbsp Balsamic Vinegar
1 tbsp Pure Maple Syrup
1/4 tsp Cinnamon
Crackers, toasted baguette, apples, etc., for serving.
Directions:
Preheat oven to 350°F.
Place brie round on baking sheet. With a sharp knife, cut into the rind on the top of the brie about a quarter inch from the edge. Do not remove the rind.
Bake 15 minutes, or until cheese is soft and melted.
While the Brie is baking, in a skillet, cook the bacon until crispy. Remove bacon from the pan and place on paper towels. Leave about 1 tbsp of the bacon grease in the pan. Once cooled somewhat, chop into about ½ inch/ 1 cm pieces.
Reduce heat to medium low, add onion and sauté for 1-2 minutes or until translucent.
Add the frozen haskap berries, balsamic vinegar, maple syrup, and cinnamon to the pan, stir and bring to a simmer.
Reduce heat to low and simmer for about 8-10 minutes until the liquid is reduced and the mixture is thickened.
Remove from heat and stir in the bacon.
Move the hot brie to a serving plate. Carefully remove the top rind using a sharp knife to separate it, if needed.
Top brie with haskap berry mixture and serve with crackers, toasted baguette, apple, etc.
Note: For a vegetarian version, skip the bacon and use 1 tablespoon of olive oil to make the topping.